Lynton & Lynmouth Cliff Railway
Lynton & Lynmouth Cliff Railway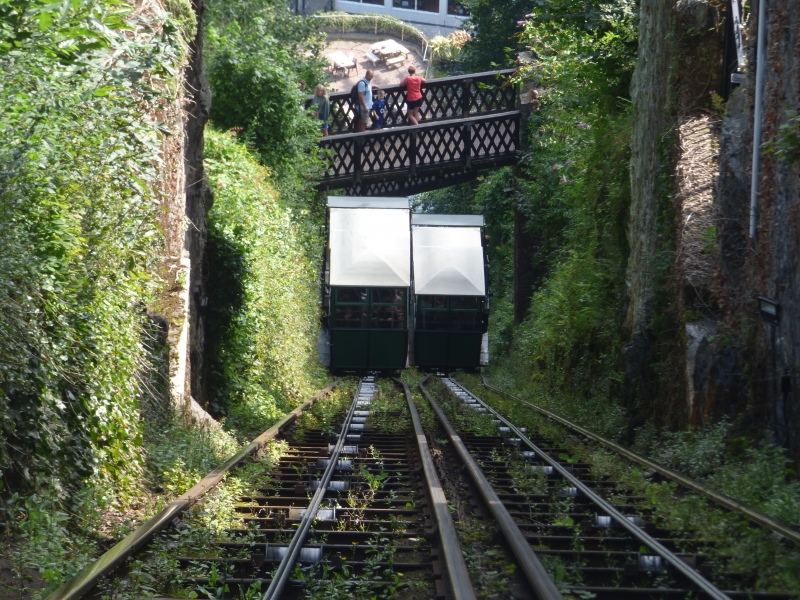 Uploader's Comments
After almost 30 years, I've been to the Lynton & Lynmouth Cliff Railway again. Founded in 1888, it opened in 1890. I think my previous visit here was in 1992.

It cost £3 per person now. This was just one ride down to Lynmouth from Lynton. Sitting near the front, was a bit hard getting photos.


These photos before our trip down.

Views from Lynton Village Railway Station, down to Lynmouth Bay Railway Station.

Lynton and Lynmouth Cliff Railway

The Lynton and Lynmouth Cliff Railway is a water-powered funicular railway joining the twin towns of Lynton and Lynmouth on the rugged coast of North Devon in southwest England.

Lynton and Lynmouth are separated by a high cliff, making it hard for people and goods to move between them. In the late 1800s, interest arose in building a funicular or cliff lift to join them. The civil engineer George Croydon Marks played a key role in both its design and bringing in financing from his business partner, Sir George Newnes. Local contractor Robert Jones was involved in designing the funicular's innovative braking system and the line's construction and maintenance in the first decades of its operation.

In 1887, construction commenced and a year later, an Act of Parliament authorised the Lynmouth & Lynton Lift Company to operate it. The completed railway was opened on Easter Monday 1890; it has been in continuous use since. While early use was largely focused on moving freight, the funicular railway became popular with tourists and it became mostly used for passenger travel. Its flat platforms were converted into passenger carriages in 1947. It is the world's highest and steepest water-powered cliff railway in operation.
Uploaded to Flickr by ell brown on 6 September 2021
Photo © ell brown, 6 September 2021. Licensed for reuse under this Creative Commons licence